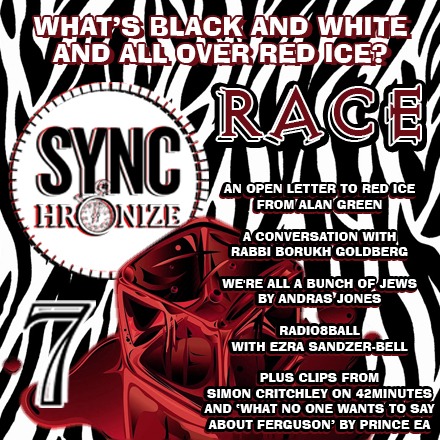 Listen here:
http://thesyncbook.com/synchronize#Ep07
09.17.14
Episode 07:
A Spider in His Hand
In this issue:
Alan and Andras return from the Oly Sync Summit to a world on fire. . . .
Click here for the full Sync Summit video collection.
Alan Abbadessa-Green delivers an open letter to Henrik Palmgren and Red Ice Creations.
Alan has a conversation with Rabbi Borukh Goldberg, author of
Spilled Blood, A False God, & Real Estate
, a conversation that picks up from their
July 13th 42Minutes
Clips from the film "Gentleman's Agreement" and Jim Morrison lead into Andras Jones' audio essay where he explains "We're all a bunch of Jews" . . .
Click here to listen to The Middle Chamber Episode 16
Ezra Sandzer-Bell of
audiomancy.net
joins Alan and Andras for a Radio8Ball consultation of the Pop Oracle, via the music of The White Stripes.
A clip from Simon Critchley on
42Minutes episode 149
Audio from Prince Ea's video "What No One Wants To Say About Ferguson" . . . Visit
Facebook.com/PrinceEa
Plus the new single from Andy Shmushkin